Does your business meet the conditions for mandatory carbon reporting?
Author(s)

Megan Potts

Topic

Does your business meet the conditions for mandatory carbon reporting?
Pledge

Understand the Net Zero regulations for your business
Regulations for Business GHG Reporting (UK)
To achieve the global target of net-zero by 2050 companies will need to play a significant role. As a result, mandatory carbon reporting regulations, as well as decarbonisation strategies for business are becoming increasingly common. Reporting regulations involve legal obligations to disclose organisations emissions and energy and carbon saving initiatives. Whilst decarbonisation plans focus on setting emissions reduction targets focus on outlining the actionable steps in achieving them.
The UK is trying to position themselves a leader in the global net-zero transition and as a result have introduced several mandates of this kind. Some notable developments include Streamlined Energy and Carbon Reporting (SECR) as well as Sustainability Disclosure Requirements.
SECR
Streamlined Energy and Carbon Reporting (SECR) is a mandatory reporting scheme that requires qualifying UK companies to prepare and file energy and carbon information in their Directors' Report. The scheme came into effect in April 2019.
Who needs to comply?
Listed companies
'Large' unlisted companies
Limited Liability Partnerships (LLP)
Listed companies are those whose shares can be bought or sold on the stock exchange. A 'large' unlisted company is defined as one which satisfies two or more of the following requirements:
An annual turnover of £36 million or more
A balance sheet total of £18 million or more
250 or more employees
The government encourages all other companies to report similarly. Although this remains voluntary for now, it is expected to affect all companies in the near future as the UK progresses towards a decarbonised economy. Therefore smaller companies who begin to voluntarily calculate and report business emissions will be leading a wider change in UK sustainability policy.
What needs to be reported?
Energy use and greenhouse gas (GHG) emissions across different scopes for the financial year or reporting period
At least one carbon intensity ratio
A 'narrative description' of any energy efficiency actions taken
The methodology used to calculate the required information
Currently emissions disclosures focus mainly on Scope 1 and 2 (direct and energy indirect) emissions. In terms of Scope 3 (other indirect) emissions only energy use and related emissions from business travel in rental cars or employee-owned vehicles where they are responsible for purchasing the fuel is required to be reported. Reporting other Scope 3 emissions is currently voluntary.
However, in a consultation on climate-related financial disclosures the UK government has discussed making changes to the SECR reporting guidelines from 2023. It is expected that these changes will make more comprehensive Scope 3 emissions reporting compulsory. Therefore it is strongly encouraged that businesses begin to go beyond minimum reporting requirements and voluntarily report their Scope 3 emissions to stay ahead of potential regulation changes.
Sustainability Disclosure Requirements
Rishi Sunak speaking at COP26 in November 2021 announced that the UK will move towards making it mandatory for companies to publish clear and deliverable plans on how they plan to transition to net zero. Companies meeting the requirements will need to publish decarbonisation plans from 2023.
"The UK will go further and become the first ever 'Net Zero Aligned Financial Centre'. This means we are going to move towards making it mandatory for firms to publish a clear, deliverable plan setting out how they will decarbonise and transition to Net Zero – with an independent Taskforce to define what's required." ~ Rishi Sunak, COP26 Finance Day speech
Who needs to comply?
Asset managers
Regulated asset-owners
UK listed companies
What will plans need to include?
High-level targets the company is using to mitigate climate risk, including GHG reduction targets
A commitment to net zero with regular milestones
Actionable steps the company plans to take to achieve those targets
The plan should cover targets and actions for emissions produced both directly and indirectly, and therefore will need to include Scope 1, 2 and 3 emissions.
How can Greenr help?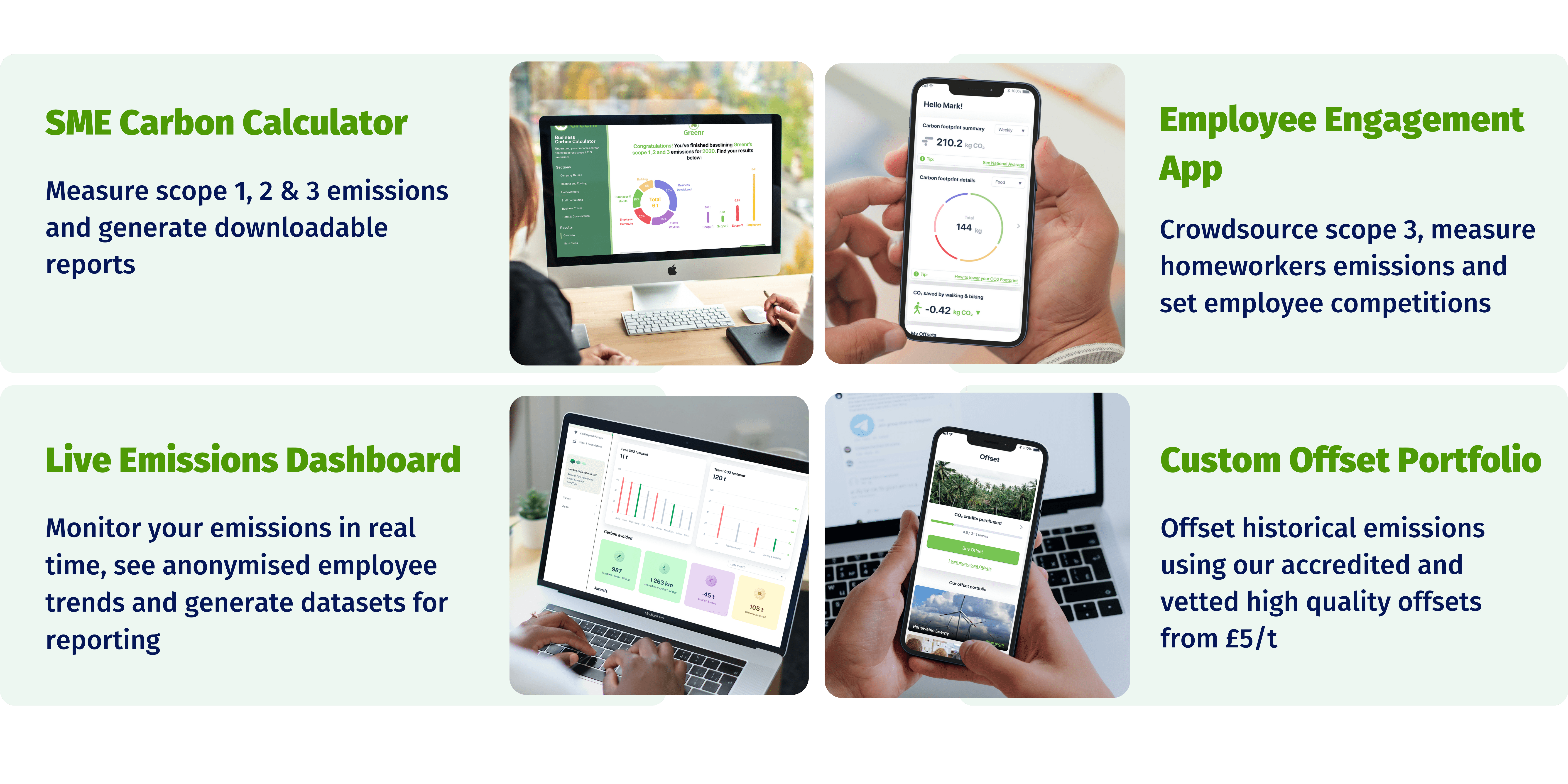 Our Business Carbon Calculator allows organisations to baseline their emissions (Scope 1, 2 and 3) then generate an exportable report.
Our Employee Engagement App allows organisations to crowdsource their Scope 3 emissions data for increased accuracy.
Our Employee Engagement App and Live Business Dashboard allows organisations to take energy efficient action and monitor the progress of these initiatives.
Our customisable offset portfolios allow organisations to take action now and offset the carbon emissions they can not yet reduce by investing in accredited renewable energy and forest conservation projects.
Our methodology follows the guidance of GHG Protocol and ISO 14064 and utilises government and scientific databases for accurate emissions calculations.
Sources:
HM Treasury: Chancellor sets new standards for environmental reporting
HM Treasury: Net Zero aligned financial centre
HM Treasury: COP26 Finance Day speech
BEIS: Consultation response - Mandatory climate-related financial disclosures
EY: What mandated net zero transition plans for UK listed companies mean
Energy Advice Hub: Business energy and carbon compliance, what's new in 2022?